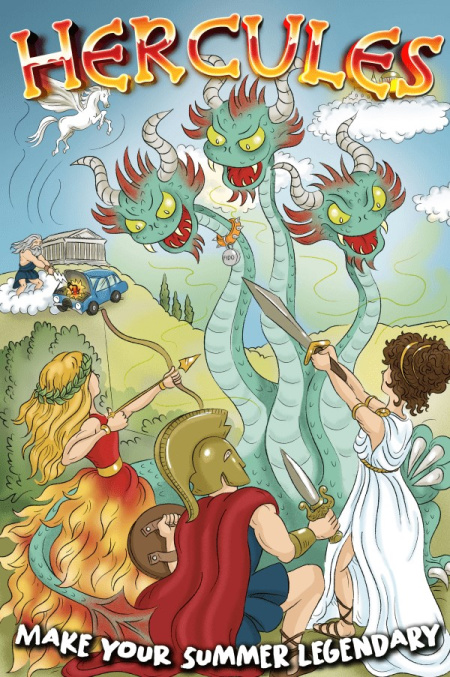 Blackberry Farm, Milton Damerel
(map)
Open-Air
IK Productions: Hercules
£11 Under 18s (4-18yr olds)
This production has already happened
Escape into the open air this summer with IK Productions summer show, Hercules, taking place in the wonderful setting of the Amphitheatre. IKP's unmistakable brand of "delightfully daft" family theatre is back in Summer 2023 for another adventure for all ages.
Travel back in time to the land of heroes, monsters and myths and join Hercules as he labours for beauty, truth and love! Come along on a legendary adventure as Athena guides our hapless hero to success. But with time running out to prove himself a hero, will Hercules ever be able to scale Olympus and get own happy ending?
Answers to Frequently Asked Questions about the Open-Air Theatre Festival: 
Tickets:
Tickets are available online or via the box office 01805 624624. 5% booking fee applies across all payment methods.
Tickets are also available on the gate (cash only).
People with access needs are welcome to a free ticket for their carer/assistant. Please call the box office on 01805 624624
Every 11th ticket is free for group bookings. Available via the box office on 01805 624624
Ticket holders enjoy free access to the gardens two hours before 6.30pm/7pm performances and one hour before earlier performances. (Or earlier for pre-show drama workshop ticket holders)
Most performances last approx 2 hours with a 20 minute interval
Minimum ages are advisory only. Please use your discretion.
Seating:
No seating is provided. Please bring low-back seating and/or blankets,
An area for people on blankets is reserved at the front.  
If you wish to be socially distanced please sit towards the rear or sides of the audience area
Performances start at the stated time so please arrive in good time to take your seats
Dogs:
Well behaved dogs are welcome. No barking!
(RHS Garden Rosemoor, Castle Drogo (NT): Assistance dogs only.)
Refreshments:
Please support the high quality onsite catering/bar facilities that are available at most venues. Check with individual venue websites for more details re catering and access.
Hartland Abbey: Teas/Coffees and High Quality Barbecue
Castle Hill Filleigh: Tea/coffee sandwiches & cakes etc from the kiosk at the entrance
Tapeley Park: Hot & cold food and bar                                            
Arlington Court (NT): Hot & cold food and bar                   
Clovelly Court Park: Self service soft drinks/tea/coffee available from the Gardener's Hut which is 200m from the performance area.                       
Blackberry Farm Milton Damerel: Hot & cold food and bar
RHS Garden Rosemoor Hot & cold food, bar, ice creams and picnic bags                
Castle Hill Gardens, Torrington: Snacks and drinks.                                                            
The Lodge, Eggesford: Bar and Barbecue    
Castle Drogo (NT): Please bring your own picnics/drinks   
Lapford Mill, Crediton: Hot & cold food and bar (located on 1st floor of the mill)                 
Reforge Retreat Black Torrington: Snacks and bar
Weather:
Performances continue regardless of the weather. Be prepared.
There are no indoor alternatives in case of bad weather.
In the event of electrical storm, tickets will be exchanged for another date.
The following may be useful: A torch, insect repellent, an umbrella (or sunshade!)
Access:
Most venues have level access, adjacent parking and accessible toilet facilities. For specific access information please call the box office on 01805 624624 or contact the individual venue via their website.
Lapford Mill and Clovelly Court currently have limited toilet facilities. The toilet at Lapford Mill is on the second floor of the mill. The toilet at Clovelly Court is 200m from the performance area.
Other Info:
Please bring cash for a cash raffle to support The Plough Arts Centre which is a Registered Charity. £1 per ticket. One winner takes half the proceeds!
Running time 120 minutes