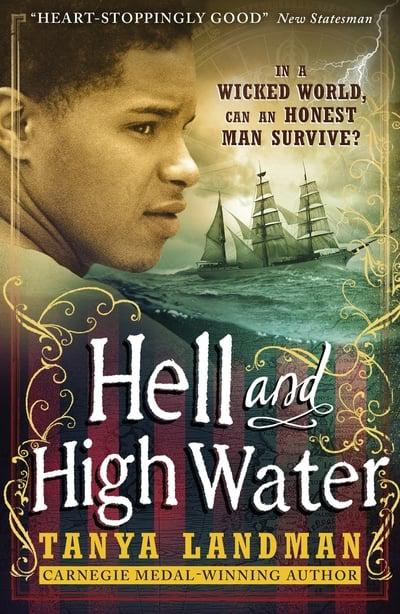 Performing Arts (Workshop)
Hell and High Water - Play in a Day (12 Years +)
With Sam Remnant
This production has already happened
Discover the story of 'Hell and High Water' by local award winning author Tanya Landman, bring it to life through drama in just one day.
With a sharing performance at 3.30pm.
12 years +.
Bring a packed lunch!
Book synopsis:
From the Carnegie Medal-winning author of Buffalo Soldier comes this heart-stopping tale of a young man's attempt to clear his father's name. When his father is arrested and transported to the Colonies, Caleb is left alone. After a desperate journey in search of an aunt he's never met he receives a strange, cold welcome. Then a body washes up on the nearby beach and Caleb is caught up in a terrifying net of lies and intrigue. Soon he and his new family are in mortal danger. This powerful story holds the reader in suspense as it charts the growth of a frightened boy into a brave young man.
About the author:
Carnegie Medal winning Tanya Landman is the author of more than forty books for children and young adults.
Born and brought up in Kent, Tanya had no intention of becoming a writer until the idea for Waking Merlin popped into her head. "It came from nowhere. It was completely out of the blue." Tanya now lives and works in Bideford and the nearby coastline was the inspiration for her Flotsam & Jetsam series.
Tanya's first books were "adventure stories with a sprinkling of magic and spoonful of humour." But then Tanya turned to crime, writing Mondays are Murder (winner of a Red House Book Award) – the first in a series of ten "Agatha-Christie-for-kids" featuring child sleuth Poppy Fields and her friend Graham.
Her highly illustrated series for younger children – Sam Swann's Movie Mysteries – feature an accident-prone boy sleuth and his faithful canine sidekick Watson. Although she writes across a broad age range, Tanya is probably best known for her historical thrillers for young adults. Apache was shortlisted for several UK awards and the US edition won a Borders Original Voices prize and a Spur award from the Western Writers of America. Buffalo Soldier won the 2015 Carnegie Medal. Hell and High Water – a swashbuckling thriller set in 18th century Devon – was shortlisted for the 2016 Guardian Children's Fiction Prize and nominated for the Carnegie Medal. Her recent book One Shot, inspired by the early life of sharpshooter Annie Oakley, won the Scottish Teenage Book Prize 2020.
Running time 360 minutes