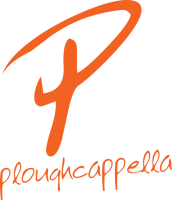 Mon 23/11/2020 7pm to Sun 06/12/2020 8pm
The new Ploughcappella song will be live on this page from 7pm on 23/11/2020.
Read the Press Release about it!
---
The video will play at 7pm.
(If the video doesn't start after 7pm you can view it here https://youtu.be/dfJ_sIH12ik)
Lyrics
Peace is our Nature
Love is our Heart 
Freedom is Timeless
Together and apart
Hidden in the Music
Woven in the Song
Is the Living Spirit 
In this Heart we're One 
We are One    We are One    We are One   We are One  
Let the fear melt away 
We can discover today
There is a wonderful way 
to be Free 
Credits
'Hidden in the Music' 
Shared by Ploughcappella (and Friends)
Written and arranged by Alison Whittall October 2020 
All audio and video captured by singers in their own homes.  
Video produced and edited by Dominic Stitchbury  
Ploughcappella and Friends
Sopranos
Jenny Jacobs
Petra Pryce
Jo Turnbull
Inca Lowson
Jennifer Lowson
Caroline Anne Harris
Miranda Broadhead
Alvis Merrall- Spiers
Jane Welby 
Altos
Di Simpson
Abi Hindriks
Ali Campbell
Nicola King
Carla Forth
Ange Wilson-Duffy
Alto2
Alison Whittall
Linda Wilkins 
Libby Hoggart
Tenor
L'Anne Knight
Andrew Warin
Linda Martin
Margaret Conkey
Gill Amos
Flowa Houldsworth
Tenor 2
Mary Humphries
Mandy Redgrove
Sue Harris
Bass
Tony Spiers 
 Rick Bond
Ced Renison
Archie Whittall & Alby
Ian Lovett (audio)
Alan Williams (audio)
For more information about Ploughcappella visit www.alising.co.uk
Alison Whittall www.awakeningtospirit.com