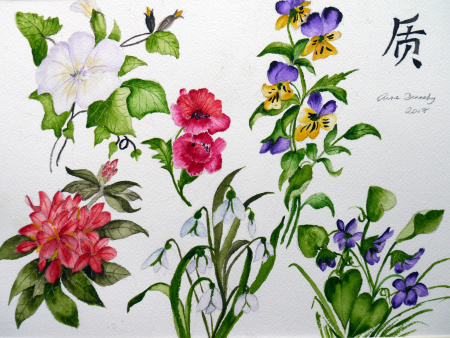 Wed 29 Nov 2017

to

Sat 23 Dec 2017
Preview:
Anne Dennehy
Some decades ago I was living in Hong Kong.  It was here that I met a very strict, but wonderful Chinese art teacher.  I moved to Devon, about four years ago, to live in a bungalow after many years of ill health.   The Rheumatology Dept. diagnosed the "disease with a thousand faces", Lupus.  Thanks to rheumatology (NDDH), the rheumatology O.T. and the physiotherapist at Bideford Hospital plus my GP at Bideford, I once again paint on my good days.
I have put on joint exhibitions in Hong Kong, America and England, then a number of solo exhibitions, at St George's Hall, Bristol and in the Anglican Cathedral.
Now it is my great pleasure to exhibit, with other crafters, here at The Plough, Torrington.
I hope you enjoy my paintings, all to the credit of the NHS and that wonderful Chinese artist many years ago.  (5% of any proceeds from the sale of pictures will be donated to Lupus UK).
Anne Dennehy.