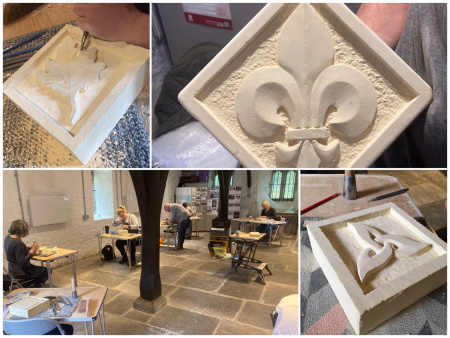 Adults (Workshop)
Stone Carving 2 day Workshop
+£40 payable directly to the tutor on the first day.
Tutor: John Piper
This unique two day workshop (Saturday & Sunday 10am-4pm) will introduce you to the age old art of carving stone by hand.
We will begin by looking at and familiarising ourselves with the tools and materials required and then look at how those tools are used in the process carving stone.
There will be demonstrations of technique and advice on all aspects of carving stone by hand throughout the workshop.
You will be supplied a block of stone on which you will create a relief carving of your choice.
At the end of day two your completed stone carving will be yours to take away and put in pride of place indoors or out.
You will require sturdy shoes and either a protective apron or old clothes.
Dust masks and eye protection will be supplied.
The cost of all materials is £40 payable directly to the tutor on the first day.
Tea & Coffee available throughout the day for a small donation.
If a workshop you'd like to do is fully booked ring Box Office (01805 624624) to be added to the waiting list, you might be lucky! This also helps us ascertain the demand for particular workshops when programming.
Running time 720 minutes