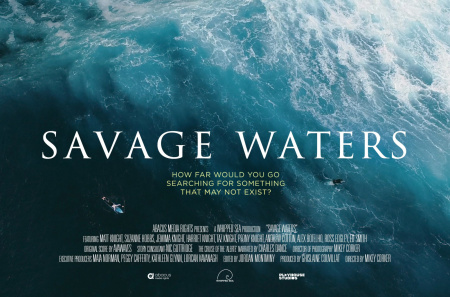 The Plough Arts Centre
(map)
+ live Q&A with Director Mikey Corker
Savage Waters
+ Live Q&A with Director Mikey Corker after the 7.30pm screening
£5 Torridge Resident
£10 minestrone Matinee (a seat, a soup + tea/coffee)
book online
or call the Box Office on
01805 624624
. (If no answer please leave a message and we'll get back to you)
or email us on
mail@theploughartscentre.org.uk
.
Please note a 5% booking fee is added to all bookings to cover admin costs.
Please bring your e-ticket with you (on your device or print at home).
Dir Mikey Corker (France 2022)
A tantalising passage in a 19th-century treasure hunter's journal inspires a family of modern-day adventurers to find and surf a spectacular wave in some of the most remote and dangerous waters of the Atlantic Ocean. For renowned skipper and thrill-seeker Matt Knight, the challenge of sailing to such an unpredictable and uncharted region is impossible to resist. Narrated by Charles Dance, Mikey Corker's exhilarating documentary is an intimate and epic portrayal of extraordinary individuals who push the very limits of exploration.
Running time 105 minutes
'An ode to those who dare to dream' Backseat Mafia