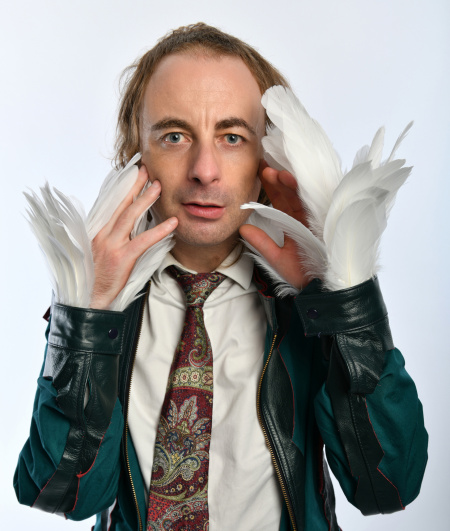 Adults Only (Comedy)
Back at The Plough Arts Centre by popular demand....
Paul Foot: Swan Power
£14.50 Key Workers (No proof needed - we trust you!)
book online
or call the Box Office on
01805 624624
(if we don't answer leave a message and we'll get back to you) or email us on
[email protected]
.
We're going ticket-less to save trees! Just give us your name and booking number when you arrive.
PAUL FOOT: SWAN POWER
The multi-award winning comedian presents his brand new show. Tired of the goose? Swan Power is here. Paul opens his beak and explores topics including Nanna on the rack, murdering Santas and interfering ambulance drivers (self-appointed busybodies!) Plus Billy Zane's Valuable Diamond (c/o RMS Titanic).  Live by the swan, fly by the swan.
Paul Foot has made numerous television and radio appearances, the most recent of which include "8 Out of 10 Cats Does Countdown" Channel 4, "Damned Lies" BBC Radio 4,  ABC Australia's "Melbourne Gala", "Breaking The News" BBC Radio Scotland and "Dave News" for Dave at the 2019 Edinburgh Fringe.  In 2019 he made a triumphant debut at Glastonbury and played the comedy tents of many of the most prestigious summer festivals.  Excerpts of his many much-loved appearances on "Never Mind The Buzzcocks" have garnered over a million views on YouTube.  A BBC New Comedy Award and Daily Telegraph Open Mic winner, he has been nominated twice for the Barry Award at The Melbourne Comedy Festival and has been voted Best of The Fest International and Best International Act at the Sydney and Perth Comedy Festivals respectively.
"A wonderful ear for language and a talent for creating glorious spirals of absurdity out of the simplest of starting points" The Guardian
Running time 120 minutes
"Like a rare exotic bird, he's special" The Daily Express
"Sublime, original, brilliant" The Independent
"Something of a comic genius" The Sydney Morning Herald
"It's risky to call someone unique but Paul Foot is pretty close" Three Weeks
"A wonderful ear for language and a talent for creating glorious spirals of absurdity out of the simplest of starting points" The Guardian