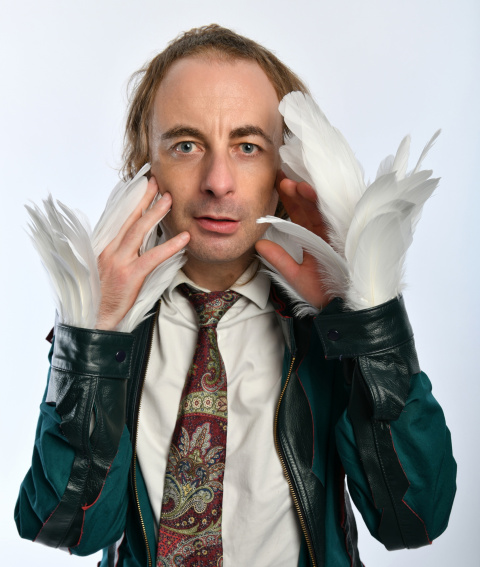 Adults Only (Comedy)
Paul Foot: Swan Power
90 mins inc a Q and A (No Interval)
10 x tickets available @ £8.25 for Key Workers. No proof required - we trust you!
PAUL FOOT: SWAN POWER
The multi-award winning comedian presents his brand new show. Tired of the goose? Swan Power is here. Paul opens his beak and explores topics including Nanna on the rack, murdering Santas and interfering ambulance drivers (self-appointed busybodies!) Plus Billy Zane's Valuable Diamond (c/o RMS Titanic).  Live by the swan, fly by the swan.
Paul Foot has made numerous television and radio appearances, the most recent of which include "8 Out of 10 Cats Does Countdown" Channel 4, ABC Australia's "Melbourne Gala", "Breaking The News" BBC Radio Scotland and "Dave News" for Dave at the 2019 Edinburgh Fringe.  In 2019 he also made a triumphant debut at Glastonbury and played the comedy tents of many of the most prestigious summer festivals.  Excerpts of his many much-loved appearances on "Never Mind The Buzzcocks" have garnered over a million views on YouTube.  A BBC New Comedy Award and Daily Telegraph Open Mic winner, he has been nominated twice for the Barry Award at The Melbourne Comedy Festival and has been voted Best of The Fest International and Best International Act at the Sydney and Perth Comedy Festivals respectively.
COVID-19 Safety for events at The Plough Arts Centre
Keeping us all safe
Here is a summary of what to expect when you come to an event or screening.
For full ddetails see COVID-19 Safety Policy for live events.
Book online for all your group (max 6) so we can seat you together
Unwell? Stay home. Have a refund
On arrival, scan the QR Code Poster
We'll take your temperature. Over 37.5 degrees? Have a refund
Wear a mask
Follow the one way system
Observe social distancing.
Cabaret seating downstairs
Balcony seating in spaced-out rows with reduced capacity
Café/Bar closed: Bring your own drinks. Make a corkage donation!
All shows are 'relaxed'. Visit the loo anytime. (2 max at a time)COVID-19 Safety for events at The Plough Arts Centre
No intervals
Use hand sanitiser: available throughout The Plough
Extra cleaning measures in place before each show.
Enjoy the show!
Running time 90 minutes
"Like a rare exotic bird, he's special" The Daily Express
"Sublime, original, brilliant" The Independent
"Something of a comic genius" The Sydney Morning Herald