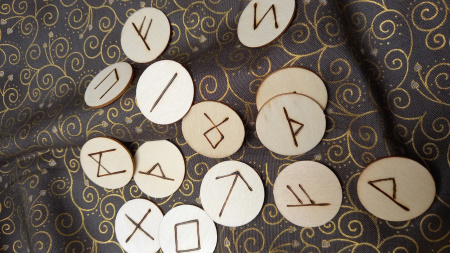 ThePlough@StAnne's, Barnstaple
(map)
Adults (Workshop)
Please note limited access and no wheelchair access to St Anne's. More info...
The Magick of The Viking Runes
A bag of runes included in the price of the ticket
This production has already happened
A spellbinding evening of enchantment where you can learn the deeper meanings of the Viking Runes and gain the knowledge needed to cast and read them.
Find yourself transported back to a time of Gods, Elves, Giants and even Hell herself. Learn the original meanings of the runes and how they fitted into the lives of the Viking warriors, sages, and farmers. Begin your own spiritual journey by looking into the world of the Viking Rune Masters and gain the knowledge needed to use the Runes effectively.
Your evening will begin with a fascinating insight into the meaning of each of the 24 Elder Futhark Runes.  See how the history of the Vikings is linked to the Runes and listen to stories about heroes and villains, elves, tree magic and love. See the tragedy and the humour of Viking life, how they lived and how they looked upon the world through the wisdom of the Runes.  
After a coffee break, there will be an short introduction to the nine worlds and then, using the Runes given to you as part of the ticket price, you will learn how to cast them upon a backdrop of the "Yggdrasil" tree worlds.
See how you can follow threads and lines created by the fallen runes, connecting them to the nine worlds or states of human consciousness.
Guidance will be given throughout the evening by a very experienced mistress of the Runes.
7-9.30pm
Running time 150 minutes