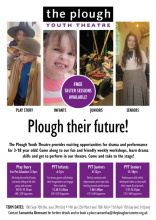 With Danielle Flowers
Day of the week:
Saturday
Time:
10.15am - 11.15am
Fun and friendly weekly workshops and exciting performance opportunities, Plough Youth Theatre is the place to be! Learn new skills, make friends and take to the stage!
Play Story - Explore a fairy story and bring it to life with characters, props and costume. A fun one hour drama workshop. Perfect for children aged 3-5yrs. Bring your energy, imagination and a parent!
3 - 5 years
10th Sept - 10th Dec (excl 29th Oct)
14th Jan - 25th March (excl 18th Feb)
15th April-15th July (Excl 3rd June)
£40 (£30 Family Supporters)
Registration essential!
If you have not already done so please register online by completing the form below. After submitting the form you will redirected to the payment page to make a payment.
Plough Youth Theatre Registration & Consent Form
If you have previously registered using the form and your details are unchanged there is no need to do it again, so please pay online here.
For help or advice call 01805 624624 email samantha@theploughartscentre.org.uk