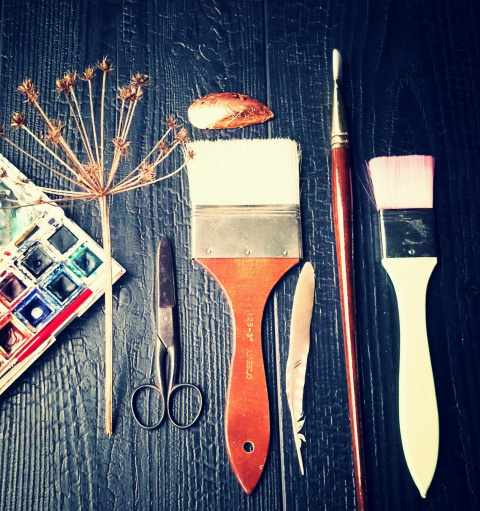 Local artists Claire Johns and Hannah Gysin both graduated with a Fine Art Degree from Plymouth University in 2014. 
Since university Hannah has shown work in various exhibitions in Somerset, Devon and further afield in London.  You will usually find her working locally within the community teaching children's art workshops. Hannah has a keen interest in Fine Art and believes everybody can be an artist and it is a way of thinking outside the box. 
Claire has also been developing her art work since leaving university and has exhibited in Somerset, Devon, Wales and also London.  Claire combines her Fine Art practice with a craft business and working part-time.  She also is a firm believer that everyone has a creative side and enjoys helping others find their creativity.
All workshops can be dropped into at any point of the 5 weeks but for maximum learning experience come to all to expand your project ideas and keep your art journals moving forwards.
We will discuss what Fine Art is with the theme being 'Place'.  This theme can be interpreted in many ways so you will all create a uniquely personal art journal and project. Throughout the 5 weeks we will be introducing new artists to help inspire your work. Exploring Artists and each others work can lead you to discover new techniques as well as help to engage discussion within the group. 
Some of the art techniques we will be looking at are:-
 Natural Dying- an age old process of adding colour to all types of materials. Dyes can be found abundantly in the plant kingdom and even in your own kitchen.  Learning how to be creative with colours and fabric is a timeless and enjoyable skill and will open the doors to new realms of possibility

Drawing and ways to loosen up your artwork and staying positive in the process- You will need an object meaningful to your project. Throughout the workshop we will be drawing the object using various mediums. Timed pieces so you cannot get stuck on the details, using scrap paper, opposite hands and continual line being some of the techniques. It isn't so much about the end result but to stop the critical voice in your head so you can connect your hand with your eyes and gain an impression of what you see.  We will be discussing how the different lines evoke different emotions to your work

Mono Printing- the process of making a print using mark making. Mark making is any mark made using any material on any surface.It is a great technique for creating spontaneous expressive print.

Using paint to portray emotion- In this workshop we will be exploring painting techniques from scraffito to dry brushing allowing you time to play and experiment with paint. Exploring how paint reacts to different surfaces creating experiments to add to your art journals. We will be looking at the artists, like Jackson Pollock and how his drastically simplified drip paintings expanded the boundaries of what art is.

Mark making tools and drawing with nature- We will go outside and collect items from nature.  You will then explore how to create mark making tools out of the items you have found. The idea of this workshop is to free your mind, explore textures, shapes and line. To think about the different marks that can be made from the items you have collected and how to incorporate these drawings into your project.
All of our workshops will fill pages in your sketchbook and give you ideas that you can carry on at home.  We will happily set homework for those who have the time and want to further the techniques they have explored with us.  
Please come along, we would love to meet you and look forward to the beginning of your next project. Complimentary tea, coffee or perhaps a wine for a small price for a relaxing evening out.
£20 per workshop
Running time 120 minutes