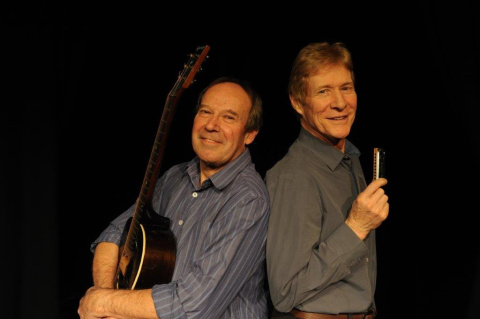 Blues (Music)
Paul Jones & Dave Kelly
10 x tickets available @ £13.25 for Key Workers. No proof required - we trust you!
When booking tickets for this event, please book for all people (6 tickets maximum) in your party in the same transaction so that we can ensure you will be seated together.
Ruggedly durable and timeless, the Blues is perhaps more popular today than it has ever been. Young musicians still cut their teeth on its enticing, 12-bar appeal, but its real rewards, true virtuosity, poise and knowledge, only come with age.
Founder members of The Blues Band, Paul Jones and Dave Kelly's tangled and colourful roots go way back into the true undergrowth of the tradition. As well as their own original material, they not only know and perform the work of the greats, ranging from Howling' Wolf, John Lee Hooker through to Sonny Boy Williamson - they actually played alongside them, and enjoyed their friendship. After over a quarter century as presenter of his BBC Radio 2 R&B show, as a thrilling singer and harmonica maestro, what Paul Jones doesn't know about the Blues can be written on a pinhead. The same can be said about Europe's leading bluesman, Dave Kelly. He's played with them all, including legends such as James Burton and Buddy Guy. Superb blues vocals combined with guitar virtuosity have elevated Dave Kelly into the higher echelon of international blues performers, where he truly belongs.
A live acoustic set by this dynamic duo is an occasion you'll remember. If you're a true Blues fan, everything you need is here.
COVID-19 Safety for events at The Plough Arts Centre
Keeping us all safe
Here is a summary of what to expect when you come to an event or screening.
For full ddetails see COVID-19 Safety Policy for live events.
Book online for all your group (max 6) so we can seat you together
Unwell? Stay home. Have a refund
On arrival, scan the QR Code Poster
We'll take your temperature. Over 37.5 degrees? Have a refund
Wear a mask
Follow the one way system
Observe social distancing.
Cabaret seating downstairs
Balcony seating in spaced-out rows with reduced capacity
Café/Bar closed: Bring your own drinks. Make a corkage donation!
All shows are 'relaxed'. Visit the loo anytime. (2 max at a time)COVID-19 Safety for events at The Plough Arts Centre
No intervals
Use hand sanitiser: available throughout The Plough
Extra cleaning measures in place before each show.
Enjoy the show!
Running time 60 minutes