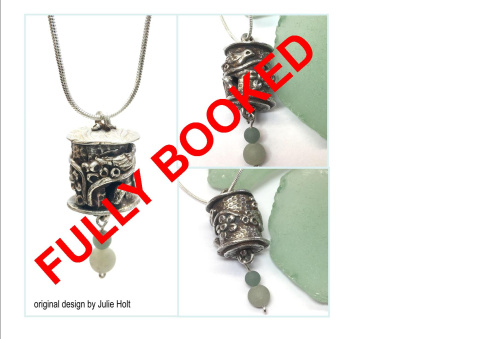 Tickets are limited so book early!
Adults (Workshop)
Making a Silver Birdhouse Pendant Workshop
Tutor: Mary Myers
This is a project based workshop. In this workshop you will make a Birdhouse Pendant using Precious Metal Clay (PMC). This is suitable for those with some previous experience of working with PMC or want to refresh their basic skills. All tools and equipment provided. The cost of the materials (excluding chain) including a 16gm pack of pure silver PMC is £40.00 payable directly to the tutor on the day. The price of silver may be subject to market changes.
£80.00 (£40 + £40.00 materials)
Please make your own arrangements for lunch – packed lunch is ideal
COVID-19 considerations
On arrival at St Anne's everyone must wait outside until invited in by the venue manager/workshop provider. 
The building is closed to the general public, only those attending organized events may enter.
Social distancing to be adhered to.
All attendees must sanitise their hands on entering the building and follow the instructions of the venue manager/workshop provider.
Track & Trace register to be filled in.
Anyone showing signs of Covid-19 symptoms should not attend and will not be allowed into the building.
Once seated attendees must not move around the room and must stay in or by their seat at all times unless directed by the workshop provider.
The venue is applying strict cleaning regimes.
Antibacterial wipes will be available for your use throughout the workshop.
Regular handwashing throughout the workshop will be expected (hand sanitizer not to be used during the workshop due to its flammable nature).
Hands on assistance will be restricted.
Only one person to use the toilet area at a time.
Paper towels are provided (please dispose of in the pedal bins).
Antibacterial liquid soap provided in the soap dispensers.
Sanitiser for toilet seats will be provided (please spray onto tissue and wipe seat before and after use. This will ensure double sanitising). 
Patrons to bring their own refreshments.
Attendees must bring a mask and visor for any close work assistance.
Running time 390 minutes