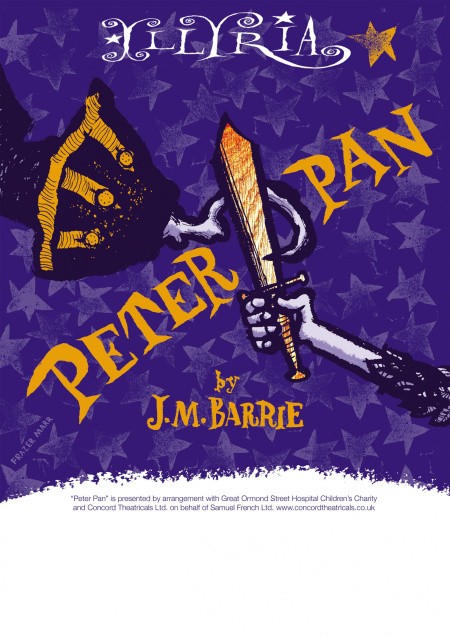 Family (Theatre)
Illyria 'Peter Pan'
By J.M. Barrie. Adapted by Oliver Gray
£10 Under 18yrs
book online
or call the Box Office on
01805 624624
(if we don't answer leave a message and we'll get back to you) or email us on
[email protected]
.
We're going ticket-less to save trees! Just give us your name and booking number when you arrive.
"Peter Pan" is presented by arrangement with Great Ormond Street Hospital Children's Charity and Concord Theatricals Ltd. on behalf of Samuel French Ltd. www.concordtheatricals.co.uk
Wendy Darling is certain she saw the face of a boy at her bedroom window 3 floors up – yet no-one believes her. So who can blame her when she agrees to fly away to the idyllic Neverland with him? But is Neverland as perfect as it seems? Or will the evil Captain Hook and his band of pirates kill Peter and rule over it themselves?
Peter Pan was first performed by Illyria in 1997. It has been performed outdoors many times since by many different companies. But Illyria's 2022 production will be the first to feature REAL flying!
(At all performances a post-show bucket collection will take place on behalf of Great Ormond Street Hospital Charity)
Answers to Frequently Asked Questions about the Open-Air Theatre Festival:
Seating:
No seating is provided. Please bring low-back seating and/or blankets,
An area for people on blankets is reserved at the front.  
If you wish to be socially distanced please sit towards the rear or sides of the audience area
Performances start at the stated time so please arrive in good time to take your seats
Tickets:
Disabled people are welcome to a free ticket for their carer/assistant. Please call the box office on 01805 624624
Every 11th ticket is free for group bookings. Available via the box office on 01805 624624
Tickets, if not sold out, are also available on the gate (cash only).
Ticket holders enjoy free access to the gardens two hours before 7pm performances
and one hour before earlier performances. (Or earlier for pre-show drama workshop ticket holders)
Most performances last approx 2 hours with a 20 minute interval
Minimum ages are advisory only. Please use your discretion.
Refreshments:
Please support the high quality onsite catering/bar facilities that are available at most venues
Check with the individual venue for more details.
Hartland Abbey: Pimm's Bar and Barbecue
Castle Hill Filleigh: Tea/coffee sandwiches & cakes etc
Tapeley Park: Hot & cold food and bar                                            
Arlington Court (NT): Hot & cold food and bar                   
Clovelly Court Park: Soft drinks available.                           
Blackberry Farm Milton Damerel:     Hot & cold food and bar
RHS Garden Rosemoor Hot & cold food and bar, ice creams and picnic bags                    
Castle Hill Gardens, Torrington: Hot & cold food and bar   
Tawstock Court, Barnstaple: Hot & cold food and bar                                                                                
The Lodge, Eggesford: Bar and Barbecue     
Castle Drogo (NT): Please bring your own picnics/drinks    
Lapford Mill, Crediton: Please bring your own picnics and use the bar provided (located on 2nd floor of the mill)                              
Brushford Barton: Please bring your own picnics and use the bar provided
Weather:
Performances continue regardless of the weather. Be prepared.
There are no indoor alternatives in case of bad weather.
In the event of electrical storm, tickets will be exchanged for another date.
The following may be useful: A torch, insect repellent, an umbrella (or sunshade!)
Dogs:
Well behaved dogs are welcome at most venues. Check with the venue.
(RHS Garden Rosemoor, Castle Drogo (NT): Assistance dogs only.)
Access:
Most venues have level access, adjacent parking and accessible toilet facilities. For specific access information please call the box office on 01805 624624 or contact the individual venue via their website.
There will be a £12.00 charge at Brushford  Barton for each vehicle to cover use of grounds for picnicking, parking and toilet facilities, etc. Payable on arrival by card/cash.
Other Info:
Please bring cash for a raffle to support The Plough Arts Centre. £1 per ticket. One winner takes half the proceeds!
We will adhere to any covid restrictions that apply during the period of the open air theatre festival
Running time 120 minutes. Suitable for all ages 5yrs+