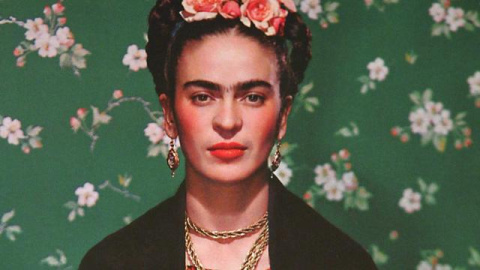 The definitive film exploring the life and art of a true global icon.
Frida Kahlo: Exhibition on Screen
Filmed extensively at Kahlo's home 'The Blue House' in Mexico City.
Under 25yrs £3.50
When booking tickets for this event, please book for all people (6 tickets maximum) in your party in the same transaction so that we can ensure you will be seated together.
Frida Kahlo
Directed by Ali Ray
Filmed extensively at Kahlo's home 'The Blue House' in Mexico City.
Created in collaboration with experts who knew Kahlo, and those that have studied and curated her work.
Synopsis
Who was Frida Kahlo? Everyone knows her, but who was the woman behind the bright colours, the big brows, and the floral crowns? Take a journey through the life of a true icon, discover her art, and uncover the truth behind her often turbulent life.
Making use of the latest technology to deliver previously unimaginable quality, we take an in-depth look at key works throughout her career. Using letters Kahlo wrote to guide us, this definitive film reveals her deepest emotions and unlocks the secrets and symbolism contained within her art.
Exhibition on Screen's trademark combination of interviews, commentary and a detailed exploration of her art delivers a treasure trove of colour and a feast of vibrancy. This personal and intimate film offers privileged access to her works, and highlights the source of her feverish creativity, her resilience, and her unmatched lust for life, politics, men and women.
Delving deeper than any film has done before, engaging with world-renowned Kahlo experts, exploring how great an artist she was, discover the real Frida Kahlo.
Keeping us all safe: (For full details please see home page of our website)
Here is a summary of what to expect when you come to an event or screening:
Book online for all your group (max 6) so we can seat you together
Unwell? Stay home. Have a refund
On arrival, scan the QR Code Poster
We'll take your temperature. Over 37.5 degrees? Have a refund
Wear a mask
Follow the one way system
Observe social distancing.
Cabaret seating downstairs
Balcony seating in spaced-out rows with reduced capacity
Café/Bar closed: Bring your own drinks. Make a corkage donation!
All shows are 'relaxed'. Visit the loo anytime. (2 max at a time)
No intervals
Use hand sanitiser: available throughout The Plough
Extra cleaning measures in place before each show.
Enjoy the show!
Running time 90 minutes