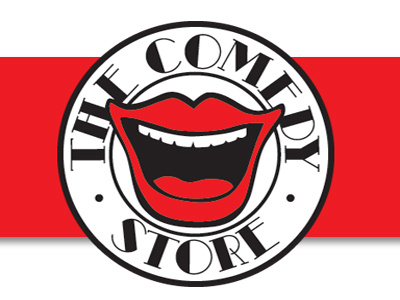 Live at The Plough Arts Centre
The Comedy Store (Acts now revealed - see below...)
£14.25 per person for Groups of 4+
We are delighted to announce that The Plough Arts Centre is one of only nine UK venues to be chosen by The Comedy Store, London to be part of four very special comedy nights in 2022.......
Renowned as the breeding ground for new talent, the likes of Eddie Izzard, John Bishop, Jimmy Carr, Rhod Gilbert and Sarah Millican all began their careers at The Comedy Store and have since gone on to become household names. We bring you 'The Best In Stand Up' from around the globe, showcasing the brightest names in comedy today. Simply the funniest show you'll see all year!
(Also on Fri 25 March, Sat 17 Sept and Sat 19 Nov 2022)
The acts have just been announced:
Karen Bayley (MC)
Petfringe Comedian Of The Year Finalist 2018
Karen Bayley is a midlands based act hailing from Birmingham. Karen has been on the circuit for over a decade. She made a name for herself early on in her career reaching the semi-final of the prestigious BBC New Comedy Awards and was later crowned the winner of the 2001 Komedia New Act prize, Karen Bayley followed by becoming the first ever female winner of the prestigious Comedy Store King Gong award as well as reaching the finals of both the BBC New Comedy Awards Showcase and Babycham Funny Women.
Delightfully saucy, her friendly and confident stage presence, combined with a killer wit, an infectious giggle and some devastating one-liners make her a comedic force to be reckoned with a warm and welcoming with a delightfully saucy and spiky edge, her bold, no nonsense attitude strikes a perfect pitch with men and women alike.
Karen can be seen performing at all the established clubs and bookers across the UK and has recently been supporting Joe Lycett on his 2016 tour. Karen also appeared in the Aviva Goth Advert Campaign
Mark Simmons
Mark is an exceptional one-liner comedian. It won him a place in Dave's prestigious Best Joke of The Fringe in Edinburgh 2017. His solo show at the festival, One-Linerer was also a huge hit, with sell out shows every day and was nominated Best Show by the Amused Moose Comedy Award Fringe Show 2017. He then continued this success with his follow-up show, One-Linererer, which was also a sell out!
"Master of one liners" one4review ★★★★★
Mark is constantly on the rise and since being in the finals of several noteworthy competitions, such as Leicester Mercury Comedian of The Year, So You Think You're Funny and the NATY Award, he has been in high demand for the top UK comedy clubs, such as Glee, Manford's Comedy Club, Comedy Central and Just The Tonic, headlining the majority of them. Also, he has been recently supporting Seann Walsh, Rob Beckett and Rob Brydon on their national tours, as well as one off shows supporting Michael McIntyre, Sean Lock and Jack Dee.
"Simmons delivered a lot of excellent funny one liners in a ten-minute set which raced by. I loved his subtle, well-paced delivery and the way he deliberately misdirected the audience using his tone of voice before surprising them with a line which was the last thing they expected…hilarious."
Bruce Dessau, Beyond The Joke
Though far from being a novice to radio, as Mark co-hosts with Seann Walsh the Newish show as well as the Filmish show on Fubar Radio, this year marked his debut on BBC Radio 4 where he guest-starred on the Today Program.
Mark's TV presence is also growing. As well as recently recording a couple of TV pilots, he has starred in the hit BBC3 documentary One for The Road, where a film crew followed him alongside Seann Walsh on tour in the Scottish Highlands. Also, online, Mark can be seen in his comical web-series, Mark Simmons – The Face Of…
 "Very funny show" TIME OUT
Roger Monkhouse
Roger Monkhouse is one of the most original and distinctive acts on the comedy scene. A consummate stand-up who employs a deadly combination of charm and menace to exert a masterful control over any audience. A highly original and quirky performer, Roger's trademark stage-prowling style and curious, inimitable manner have established him as one of the hottest names on the comedy circuit.
Distinguished as a comic by his eloquence and keen eye for a fine phrase, Roger's easy observational style is spiked by the signal flares of an accomplished gag writer. A supremely confident compere and seasoned corporate host, Roger is happy to improvise freely with a crowd and is at great ease bantering with an audience, but has no shortage of first class observational material in his armoury.
As one of the most sought after acts on the comedy circuit, Roger headlines at all the major comedy venues and has performed extensively throughout the United Kingdom and Internationally, most recently performing in Belgium, The Netherlands, South Africa, China, Singapore, Tokyo and the Middle East. He has also featured on major national tours of the UK sponsored by Hooch and J2O.
Recent television credits include 'The Comedy Store' and 'The World Stands Up', (both Paramount), 'My God I'm My Dad' (Bravo) and 'Street Cred Sudoku' (UKG2). He is one of the regular writers on Channel 4's hugely popular comedy panel show '8 Out of 10 Cats' – responsible for scripting up-to-theminute topical gags every week for the show which features Jimmy Carr alongside team captains Dave Spikey and Sean Lock. On the airwaves, he was recently a guest panellist on comedy panel show 'Jest A Minute' (BBC Radio Wales) as well as contributing to review show 'Serious About Comedy' (BBC7).
A fine topical writer and performer, and master of sharp observational comedy, Roger is a regular member of the prestigious and critically acclaimed 'Cutting Edge' team at the London Comedy Store.
He also performed with the Manchester based topical and satirical team 'MEN at Work' at the Manchester Comedy Store. His forte is delivering intelligent, thought provoking material that pulls no punches and is always incisive, relevant and up to date. Articulate, quick witted and spontaneous, if something's in the news, Roger has a routine about it. Roger's distinctive voice and sharp enunciation make him particularly suited to voice over work. Raised in Kingston upon Thames, he retains his Estuary drawl and remains untainted by a South Yorkshire accent despite a decade of living in Sheffield.
"unfailingly entertaining and skilfully able to pull punchlines, seemingly, out of thin air" – Chortle
"his laconic delivery shields an engaging persona and an enquiring mind" – The Guardian
Andy Askins
Andy Askins is a diminutive figure who exudes an air of vulnerability as he steps up to the microphone armed with a guitar and a cheeky grin. It's an overwhelmingly misleading demeanour which serves to heighten the impact of the killer lines that he delivers. Andy has an expertly crafted routine littered with an eclectic mix of offbeat original comic songs and parodies. A talented musician with a captivating voice, popular songs have been re-written and given a perverse twist to tremendous comic effect. With a wickedly dry sense of humour, Andy's darker material is sweetened by his innocent and impish demeanour which never fails to leave audiences in the palm of his hand. With impeccable timing, the inventive and quirky songs are peppered with inspired patter – the material is as strong as the songs and delivered in an inimitable modest and self-deprecating style. Since becoming a full time comedian back in 2005, Andy has built a reputation as a distinctive and original talent, and is now a highly sought-after headliner at all the major UK comedy clubs – as well as being a favourite amongst his peers. Following a successful debut in 2014, Andy was invited back to the prestigious Altitude Comedy Festival in Austria in 2015 where he performed for the second year running, once again tearing the roof off. He has previously had the honour of working with Michael Mcintyre, Lee Evans, Jason Manford, Alan Carr, Jimmy Carr, Micky Flanagan, Harry Hill, Rhod Gilbert and Jack Dee, to name a few stand-up luminaries. Andy performed his solo show "The Man With No Name" at the prestigious Edinburgh Festival for the first time in 2016 to rave reviews. On TV screens, Andy was recently invited to appear on The John Bishop Show, performing a storming set at the Hackney Empire, alongside a stellar line-up from the worlds of comedy and music. The show transmitted in a primetime Saturday night slot on BBC One. Having impressed audiences and executives alike, Andy was invited back to perform on The John Bishop Christmas Show (the only Artiste to be invited back from the series), which also aired on BBC One. Andy has also recorded a set for the latest series of Comedy Central's The Comedy Store, and has performed on two series of The World Stands Up, also for Comedy Central. Proving that his brand of comedy is universally appealing, Andy has delighted comedy audiences as far and wide as Switzerland, Belgium, Hong Kong, Tokyo, Bangkok, Dubai, Mumbai and the Caribbean. He is also a firm favourite with the Armed Forces, performing several tours on Naval ships in ports around the world, as well as Iraq, Afghanistan and the Falkland Islands. Andy was also one of a very select group to be awarded an Afghanistan campaign medal for his contributions which included several tours to soldiers operating on the frontline. Originally from the North East of England, Andy is now based on the Isle of Wight. He is currently working on several original ideas for TV and Radio
Running time 120 minutes