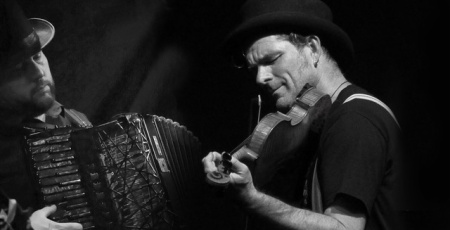 book online
or call the Box Office on
01805 624624
(if we don't answer leave a message and we'll get back to you) or email us on
[email protected]
.
We're going ticket-less to save trees! Just give us your name and booking number when you arrive.
Master accordionist Murray Grainger and fiddle player Adam Summerhayes play some traditional tunes, particularly from the NE of England, and compose their own music, specialising in creating within the moment so each performance is uniquely magical and exciting in its improvisatory focus.
'Two virtuoso musicians playing some of the most startling and original music you will ever encounter.
Compelling, exciting and utterly original' Phil Beer 'Grainger's accordion with Summerhayes's fiddle is especially beautiful.'
Songlines Adam Summerhayes has been described as a 'Paganini of the traditional violin.' fRoots
Running time 120 minutes