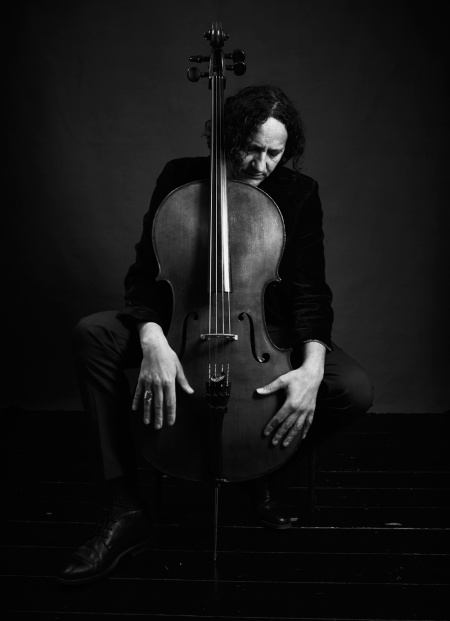 Classical (Music)
Celloman
A Gallery Gig with cabaret seating in the Gallery (via stairs or lift)
Celloman presents Arpezzato: A new style of cello playing
Celloman is the artist name of cellist and composer Ivan Hussey. The project has been active for over twenty years under various guises including an electric band, acoustic string trio, and solo cello. The music is a unique blend of Classical, Jazz, and World Music. Celloman has released seven albums and has performed extensively across the UK and abroad including at major festivals such as Glastonbury, Womad, Sauti za Busara (Zanzibar) and Exit Festival in Serbia.

This entertaining and informative solo show is split into two halves.
The first half discusses, through examples, the changing role of the cello in history, from bass instrument to melodic instrument. 
Here, the cello is introduced as a harmonic instrument, much like the guitar, through a new style of cello playing called Arpezzato, a combination of the words 'Arpeggio' and 'Pizzicato'. Playing examples taken from his 2019 album Arpezzato Cello, Ivan uses finger techniques imported from the world of Rock/Pop, Blues and Jazz and applies them to the cello.
The second half takes the same compositions and builds on them through the addition of bowed melody and harmony where Ivan will duet with a virtual version of himself, performing pieces taken from a brand new album entitled: Cello Moods & Broods, released to accompany these solo dates.
Alongside his work with Celloman, Ivan has had a distinguished career as a session cellist, performing and recording with the likes of: Mick Jagger, Soul II Soul, Incognito, Jay Z, The Lighthouse Family, Snow Patrol, Annie Lennox, Duran Duran, Gabrielle, Natacha Atlas, Smoke City, Shaun Escoffrey, Third World, Lee 'Scratch' Perry and many more. He has performed at various cello festivals including Belgrade Cello Festival and Beyond Cello in London.
Running time 105 minutes
"… The star is Hussey's Cello, proof that the instrument can be surprising, sensuous and funky – all at the same time." - The Observer
"Showcasing the cello's versatility as a rich harmonic instrument, with slides, hammer-ons and arpeggios" – Musician Magazine
"A collection of beautiful and uplifting original compositions" – All About Jazz