18 July 2018
The Plough Arts Centre supporters Ray and Claire Gard join a fund director, the artistic director of the Roundhouse, Camden and the shadow culture secretary in London to judge this year's national Achates Philanthropy Prize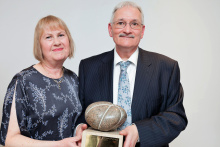 The Achates Philanthropy Prize, the only annual prize that celebrates first-time cultural giving in the UK, is open again for applications  with a host of new judges including two senior MPs, leaders of grant making bodies and arts organisations and experts from Arts Council England.
The Plough Arts Centre nominated a generous couple, Claire and Ray Gard, for the Individual Philanthropy Award in 2017 and were thrilled when they won. As part of the legacy of that win, they will join Tom Watson, Deputy Leader of the Labour Party and Shadow Secretary of State for Digital, Culture Media and Sport, to judge the Individual Philanthropy Award category together with other new panel members: Régis Cochefert, Director of Grants and Programmes at the Paul Hamlyn Foundation and Marcus Davey, Chief Executive and Artistic Director of the Roundhouse, Camden.
"It's a real honour to be asked to judge this year's Award alongside such an impressive panel of people; we're very excited!" commented Claire.
Director of The Plough Arts Centre, Richard Wolfenden-Brown added:  "The publicity about the Award has already prompted four other couples to donate to our youth theatre bursary fund; with the £5,000 prize money this will combine to help children for years to come. We'd encourage arts organisations of all scales to apply for this Award; it's so important to recognise new philanthropy and this is the only foundation putting money behind an award in this way. We're very grateful, it has given huge momentum to the fund, which we've named 'The Achates-Gard Bursary' to give our thanks more permanence".
Claire and Ray are still bowled over. "It's amazing that our efforts started such a big initiative and that generations of children who are in hardship in some way will benefit, it makes me realise that small actions can multiply wonderfully when the right people come together."
The Individual Philanthropy Award was created to celebrate a new generation of cultural philanthropists in the UK, and to inspire the next. Organisations across all art forms are invited to nominate an outstanding individual or trust who has given philanthropically towards their organisation for the first time within the last 12 months, at all levels of giving. The award is a sculpture by renowned British artist, Peter Brooke-Ball MRBS. The winning philanthropist will become custodian of the sculpture for one year, and their cultural organisation will receive a £5,000 donation. The 2018 Individual Philanthropy Award is sponsored by Spektrix. Apply here if you are an arts organisation interested in winning in 2018: http://www.achates.org.uk/foundation.html