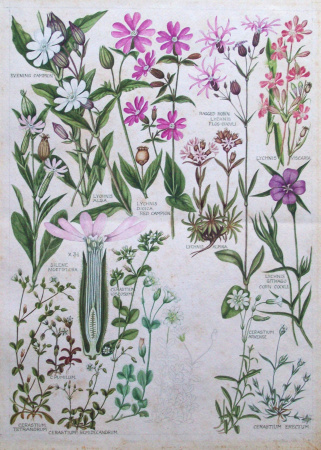 Sat 05 Aug 2017

to

Sat 16 Sep 2017
Preview:
The Rev Keble Martin Project
From Saturday 5 August until Saturday 16 September the Plough and Torrington Museum will be holding a joint open exhibition of flower painting, photography and crafts as part of a celebration of the Rev Keble Martin's legacy. Not only was he the author and illustrator of the Concise British Flora in Colour but he was also the vicar of Great Torrington in the 30s and 40s.
On Monday 31 July, from 10am – 5pm, artists will be invited to bring along paintings, photographs and crafts about flowers to the gallery at the Plough Arts Centre. (If you cannot make this time we will accept work over the weekend but please check our opening times) We will try and present as much as we can so there will be a limit on the number of works we accept - a maximum of 2. And we are looking for smaller works - although we are not prescriptive about this. Preference will be given to work based on wild flowers but all kinds of flowers are acceptable – including imaginary ones! All work should be ready to hang (framed and ready strung) and clearly labelled on the reverse with the artist's contact details - and whether or not it is  for sale and the price.   Although the Plough and the Museum will try to present as much work as possible, if there are too many entries we will have to select. You will be informed as to whether your work has been selected on Friday 4th August.
There will be a preview on the 4th August from 6.30pm to which everyone is invited..
The exhibition will also include 3 watercolours by the Rev Keble Martin owned by the museum.